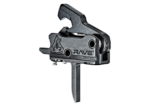 Rise Armament Rave PCC Flat Trigger
$159.99
Rise Armament Rave PCC Flat Trigger
UPC: 850011713372 
In a competition or self-defense situation, you need a pistol caliber carbine (PCC) trigger you can trust. Enter the RISE Armament Rave PCC Flat Trigger.
Based on the original RISE Rave 140 Trigger, this incredibly budget-friendly trigger upgrade will drastically improve the reliability of your PCC. The Rave PCC Flat Trigger features an enhanced hammer that elevates the performance of your AR9. We engineered the specially designed hammer to withstand the powerful impact of a PCC's blowback system. Part of the vast lineup of RISE triggers, this is the next evolution of the Rave 140 series.
Enhanced hammer specifically designed to withstand PCCs' intense blowback systems
The feel and value of the bestselling Rave 140 AR trigger
Accuracy-improving crisp, clean 3.5-lb. trigger pull
Single stage with Quik-Klik™ reset you can feel
Straight, flat trigger blade for increased leverage
Easy and fast to install, no set screws to tighten down
Designed for AR9s with mil-spec inner dimensions; calibers include 9MM. 40 S&W, and .45 ACP
NoWay™ Take-up — Most triggers allow a degree of movement before engaging the sear, but not with RISE triggers.
Interior parts are S7 steel with heavy-hit hardening then black nitride finish for enhanced strength and corrosion resistance
Contained in a precision-machined anodized housing made from a solid block of 6061 aluminum to help the trigger perform flawlessly under a variety of conditions
Sleek appearance to match its enhanced performance
Comes with free anti-walk pins for secure installation
Backed by the RISE More-Bang-For-Your-Buck Performance Guarantee and Lifetime Warranty
Why You'll Love It
With its enhanced hammer and flat trigger blade, the Rave PCC Flat delivers additional reliability and improved control to your 9MM AR.
Designed to withstand AR9s.
Budget-Friendly
Extra Reliable for PCCs
Elementary Installation
0
People watching this product now!