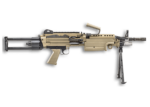 FN M249S Para -FDE – 5.56 Rifle – 46100172
$12,799.99
FN M249S Para -FDE – 5.56 Rifle – 46100172
ALL FIREARMS MUST SHIP TO AN FFL FOR PICKUP
IN THE NOTES SECTION PLEASE INCLUDE:
NAME OF FFL (FIREARM Shop)
CITY & STATE OF FFL
FFL's PHONE NUMBER
PRODUCT DETAILS
Brand: FN
Model: M249S Para
Model Number: 46100172
UPC: 845737015107
Caliber: 5.56x45mm NATO
Action: Semi-Auto
Capacity: 30+1 Mag Or 200rd Belt Capacity
Barrel Length: 16.10″
FEATURES:
Own the newest addition to the Military Collector Series the FN M249S PARA, a semi-auto version of the currently contracted FN M249 PARA. The PARA was designed for airborne, armored infantry and close quarters combat (CQC) operations with a shorter barrel and collapsible buttstock. It retains all of the features of the FN M249 SAW and can be field-converted back to the standard model configuration in just 30 seconds. It includes folding carry handle & bipod.
COMPLIANCE
Must be 21 or older to purchase.
All NFA Rules Apply.
These items are controlled by the U.S. Government and authorized for export only to the country of ultimate destination for use by the ultimate consignee or end-user(s) herein identified. They may not be resold, transferred, or otherwise disposed of, to any other country or to any person other than the authorized ultimate consignee or end-user(s), either in their original form or after being incorporated into other items, without first obtaining approval from the U.S. government or as otherwise authorized by U.S. law and regulations.
It is the customer's responsibility for understanding state laws regarding magazine capacities. Watchdog Tactical abides by all state regulations regarding the sale of high capacity magazines. We DO NOT ship high-capacity magazines with firearms to certain states. We WILL NOT replace high capacity magazines with state compliant magazines. We DO NOT offer refunds in place of the magazines. Please see our terms and conditions for a list or restricted states.
0
People watching this product now!